Marlin Energy Group holds an extensive portfolio of customers with energy needs which practically reach across five continents.
Petcoke is part of the energy products portfolio that Marlin Energy Group manages globally.
Marlin Energy Group manages global business relationships with Calciners and with all major cement producers, power generators, maritime companies as well as refineries and end-user smelters.
Marlin Energy Group has domestic as well as global partners, who have significant petcoke requirements.
Marlin Energy Group manages the supply chain of bulk products is what we do best day in and day out.
Our core strategy is to build integrated supply chains – "pipelines" and to control the critical stages of the supply process.

Marlin Energy Group will built a supply-pipeline grid through which we are able to apply our global network of suppliers and customers.
We will create continuous links between suppliers and customers.
Use of our network of suppliers and customers to achieve significant economies of scale and efficiency.
Creates value through origination then add value – and capture margin – at each step of the supply chain process.
We will originate from producing countries, transport, store, process and deliver to markets.
Investments in hard assets, including ports and processing facilities.
Transport coke from refineries operations in Europe and the rest of the world to power, cement and calciner producers in the developed world.
Integrated energy supply chain while acquiring low-cost energy resources.
Will continue to expand in other sectors of the supply chain.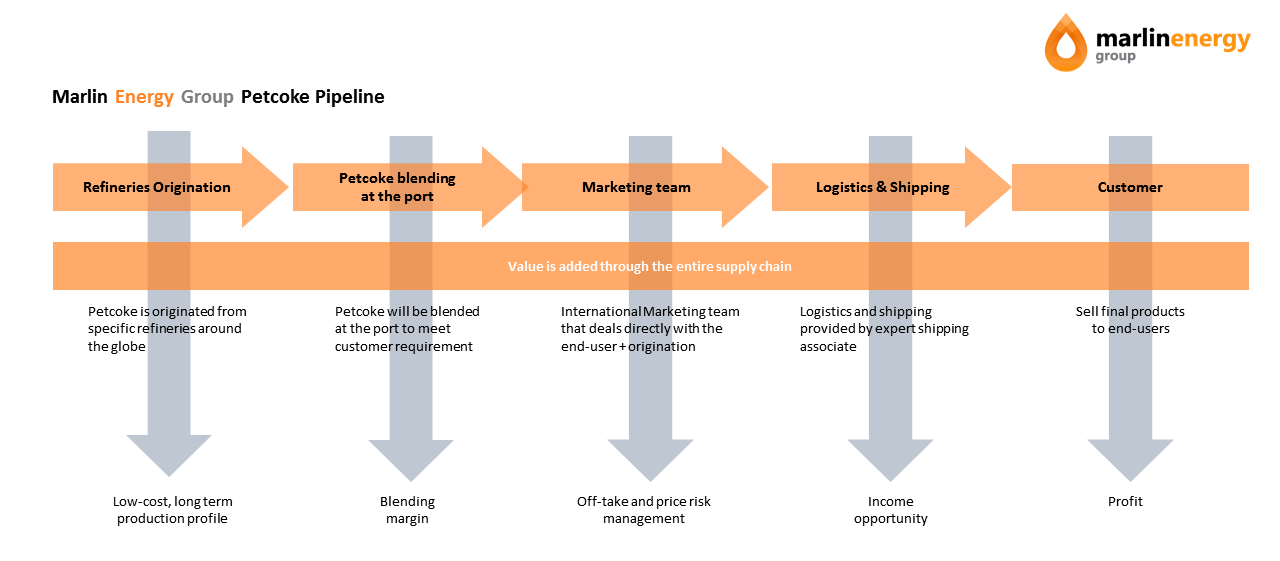 Marlin Energy Group – Partner with added value
Develop a presence in the calcined and fuel grade petcoke market(s) in the Middle Eastern Region to start establishing Marlin Energy Group as a reliable, sought after supplier.
Study the feasibility of future partnership with Calciner in the Middle Eastern Region, including storage and handling facilities.
Grow the value extracted from the calcined as well as fuel grade petcoke business in the Middle Easter Region, Europe and Asia markets in context of Marlin Energy Group 's overall carbon products strategy.
Aligned view of the likely future calcined partnership and fuel grade petcoke with suppliers and end-user with reference to the broader agenda.
Marlin Energy Group can guarantee the timely off-take of the petcoke production regardless of quality or market conditions; while doing it under the most professional and highest environmentally friendly standards.
Marlin Energy Group is committed to promote the use of petcoke in the domestic as well as the international markets.
Marlin Energy Group offers a creative pricing mechanism which minimizes risk of market volatility favoring all parties involved.
Marlin Energy Group and refineries can jointly explore the marketing of other oil derived products using Marlin Energy Group's experience in managing the supply chain.
Details of Business Model

Using our own relationships and resources, including the expertise of the Petcoke team and the knowledge of our business partner's knowledge of the Middle Eastern region, we intend to gain access to the fuel grade, anode grade and Calcined Petcoke markets.  We want to procure / trade Petcoke, blend anode grade and calcined petcoke.
We intend to target existing smelters in the Middle Eastern Region as well as new smelters expected to be built and to be expanded in the region as part of the trend which is brining these operations seeking lower electricity costs.  Also looking into Europe's demand and South Africa.